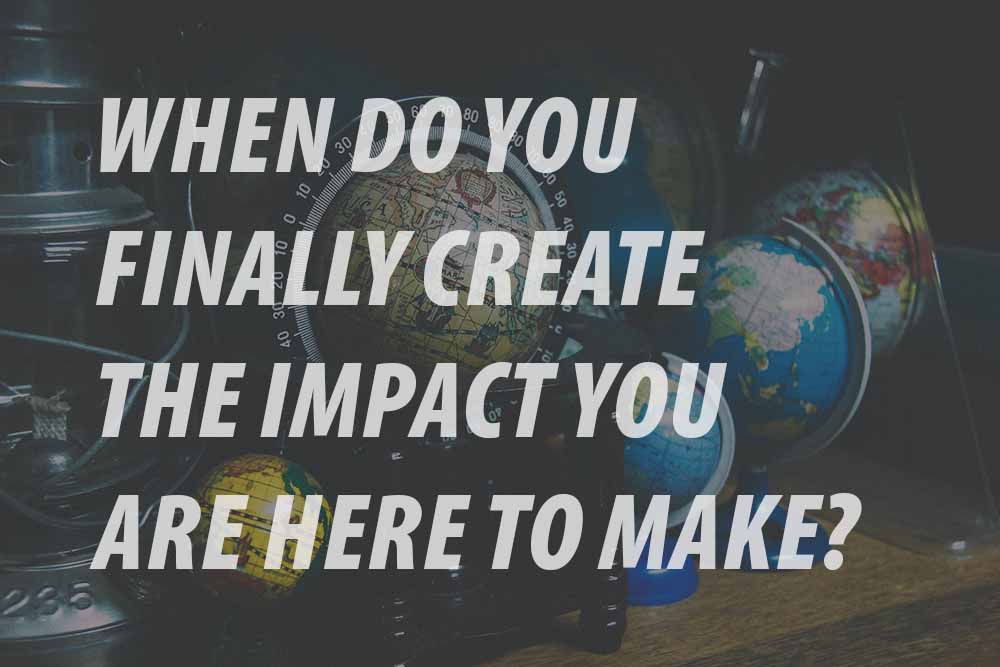 There was a time in our practitioner journey where we felt like we were never going to make it. That we would never create the impact and therefore touch the lives we knew we were here to positively affect. We still remember that feeling of worthlessness, despair, and frustration.
You see there was an unconscious lie that we bought into that said if we trained well, got our certification and hung our shingle on the door of our clinic space people would just show up. Then when they didn't show up we felt lost, confused and like we were no good at some level.
It was a tough time. We soon noticed that our belief around how good we were was directly attached to our client numbers so when we did eventually 'work it out' and get booked up, for a time it felt good. It felt as if we had made it and that we were finally good or even great practitioners. This was short lived as now we had no time freedom, and that's a story for another time.
What disheartens us the most is to see amazingly wise, talented and valuable practitioners not receiving the success that they deserve. Let alone all the people that they could be helping to create more healthy and vibrant lives. To waste all that training, all those hard fought life lessons and all of the money you have spent getting here is something that disappoint us every day. Especially when we know how easy it is!
To know that all it takes is a few tweaks, small adjustments and realignment of what is possible and everything could change. We see it all the time, that when practitioners are opened up to just how easy it is, they make the changes in mindset, in their actions and beliefs that have them flourish and thrive with more time, money and impact.
It can be as simple as utilizing the 3 Key M's;
Firstly,

connecting with your MISSION.

What are you truly here to deliver on? Now this often started way before you became a practitioner. It is your true purpose anchored through your niche. The thing you are truly here to do and who you are truly here to serve. Now I know that niche is a buzz word at the moment but what does it really mean? It's about claiming your space because you have to meet people where they are at, their core problem. So what is your mission? What are you here to deliver on and who are you here to serve? At our Revolution event we help participants to connect to their mission, their niche and their 'A' grade clients using our Blueprint system;

Secondly, it's about

capturing your MAGIC

, your wisdom, this IS where your value lives. Unfortunately we have been lead to believe that our value is mysteriously hidden in our modality, it's not! No one, except other practitioners of your modality, care about your modality. They only care about their problem and finding a solution to it, you need to be that solution and it's hidden in your wisdom. We can't express enough just how valuable this wisdom is, right now you have a million dollars worth of advice that your 'A' grade clients will pay well for living inside of you so what are you waiting for? The key here is to package up that wisdom and offer it as a complete solution to their problem. It's what they are waiting for, it's what they want to buy and it will allow you to create greater impact. At our Revolution event we show practitioners how to effectively package up their magic, using the Wellness Journey System so that they leave with their program framework ready to share with the world;

Lastly,

communicating your mission and magic through a clear and concise MESSAGE.

One that meets your client exactly where they are at. It explains who you are (to them), what you do and how you can help them. This has to be executed fast, fluid and fluff free or you will lose them. We are the most impatient generation in history, you have to make your message count fast as you only get one shot. So start with your mission, your expertise, followed by your modality, what you do and finally leave them with how you help them and the three core benefits they get from working with you. Now they know who you are, what you do and how you help, now they can buy you. Using our Power Pitch system you will be able to share your message effectively in under 12 seconds!
So get clear about your MISSION, share your MAGIC and align your MESSAGE so that they can engage with you. Remember that everything is a conversation. The quality of which determines the success of your business.
Know that your success is and has never been attached to your worth, and we know that we know this logically but something inside us still attaches it to our results and the impact, or lack of it, that we are having.
You have incredible wisdom, knowledge, and abilities that people need to experience but so often the way you share, the way you present and the way you package yourself lets you down.
If it's time to step up to the next level, to finally be rewarded for your hard work and to create a bigger impact on the planet then we want you. We want to show you just how easy it is to create a much bigger impact while having TIME, LOCATION and FINANCIAL FREEDOM. We want to share our magic with you and empower you to live your full potential.
So if you are feeling a little disheartened, lost and confused about why it's not working or you are fully booked wishing you had more time, then spend 2 days with Andy and me, as we expand your view of what is possible.
We'll show you how to create huge impact and effectively share yourself with a world hungry for wellness solutions. It's what we LOVE to do, inspire you, create the possibility for you and empower you to make a bigger difference, the world needs you and it's simpler than you think.
CLICK HERE to find out more and book
So join us at the Revolution event, a 2-day extravaganza that will empower you to get your message clear, concise and congruent so you can deliver in under 12 seconds.
Learn how to unpack your wisdom and repackage it into a commercially clever program that you could sell right after the event.
Learn how to stop selling and start sharing yourself in an effective manner where people line up to buy you. Learn how to go online powerfully so that you can engage more effectively leading people through a proven process to help potential clients to get to know you, like you and trust you because only then can they buy you.
All this and a whole lot more in our two-day Wellness Leadership Revolution event. We are heading to Perth, San Diego, San Francisco and Toronto really soon!
CLICK HERE to find out more and book
It's an amazing event that's going to stretch your mind, challenge your beliefs and empower you to take positive actions that work. Participants have even been known to get new clients at this event.
CLICK HERE to find out more and book
It's what we love, so we invite you to join us now and change your future and have more time freedom to spend with the people you love the most, location freedom so you can work from anywhere and financial freedom so that your future is secure.
Regards,
Marcus and Andy
P.S: When you get a ticket, we will also give you one for a friend for FREE;
P.P.S: When you buy now you will also get access to our high-level Masters training on how to run successful webinars called Virtual Velocity.
Comments
comments