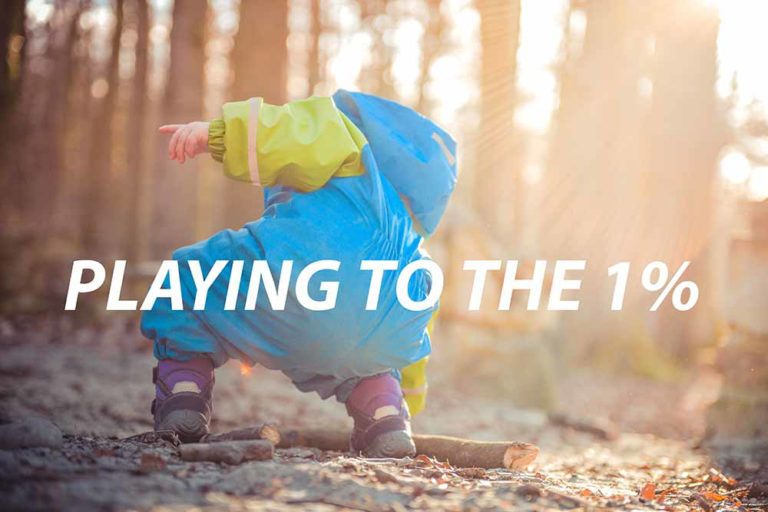 There are some places where playing to the 1%, the worst case scenario, is critically important. In my 16 years as a ski patroller we were trained to deal with "the 1%".
When we arrived at an accident scene you always play the "just in case" game. Manage the spine, just in case. Manage the airway, just in case. Manage the organs, just in case. Now in this time sensitive environment where it is quite hard to know what is really going on with a patient and where the mechanisms of injury can be quite destructive to the human body it is critical to play to the 1%.
Now 99% of accidents turn out well, the injuries are non life threatening and that maybe managing the above was not needed, however you can never be too sure so you play the 1%, "just in case" game.
In day to day business life it's not very wise to be this sensitive. The 1% game is critical to being an effective ski patroller, but it's not an effective way of building a wellness business. If we play too cautiously when accessing a business situation we can damage our business growth. If we play to the 1%, "just in case" we don't go and do that public talk, just in case we get humiliated. We don't share our magic and speak up, just in case we get cut down. We don't put our self out there and share our truth, just in case someone abuses us. Seems silly right, but we do it all the time.
We continually play the 1%, "just in case" game in our business and make excuses for not showing up, but this hurts our growth and our positive impact. Just in case of what? Just in case we get wounded again, laughed at again, made fun of again. The crazy thing is that in most cases, just like in ski patrolling, it's going to be ok. No one is going to laugh, no one is going to make fun of you, in most cases it's going to turn out ok and people might actually love you and what you have to say. This is especially true when you learn how to target more of your ideal audience, and target less of the people who aren't the right "fit" for you.
In most cases what you have to say, your magic and your authentic message is increasingly valuable to people, and especially valuable to your "A grade" audience. Your "A grade" clients are those whom love who you are, love what you do and get the most benefit out of your magic. They desperately want you to step up and share yourself so that they can benefit from your magic. In fact if you watch social media you will see that people are craving a deeper connection with others. They are craving for others wisdom, experience and knowledge. They want to make deeper more meaningful connections.
So what if you were to play to the 2% or 5% or even 20% of your A grade tribe? What if you were to challenge yourself to share just that little more? To put yourself on show and share the amazing knowledge, wisdom and wellness information that you have. How would that make the world a better place? How would it make your world a better place? The good news is that when you target your A grade audience with your marketing, you get more raving fans than you get objections to your magic.
So maybe don't share your political views if it does not feel appropriate or safe. Maybe don't share the harsh lessons that you have learnt if it does not feel appropriate or safe. But maybe just maybe share the knowledge you have learnt through all of your training. Maybe share the wisdom you gained from recovering from an illness, event or situation. Maybe share the experience and journey, the road to recovery and the wisdom that you gained.
Maybe, just maybe someone will appreciate that you stood up and shared? We know for a fact, that the tribe you've been put on this planet to serve, will love you for it!
The crazy thing about having a wellness business as a holistic practitioner, coach or consultant is that you have to put yourself out there or no one will know how to find you or engage you. You have to share your wisdom and let people know what you have to offer. You have to play to a bigger percentage or you will not be seen.
Now we know that most of the time we try not to be seen, because this is the scary part, but isn't it time? Isn't it time to be heard, to make a bigger difference and help move the world to wellness? Could it now be the time to stop hiding and to live up to your goals and dreams? Surely it is time to step into your full potential as a wellness leader?
So maybe it's time to:
Find your voice – Understand your A grade target market and speak to them;

Find your magic – Get clear about your core products or services and offer them up;

Find you place – Understand your place in the market and establish yourself as the go to person for that particular issue…
In this world of hyper-connectivity it's so important to be able to articulate your message to your ideal clients who are now searching for you globally. It's critical to have a simple yet clear journey for them to take that empowers them to wellness and not just alleviates their suffering. It's time to step into a new paradigm of wellness leadership that will help you to share your beautiful gifts, reach your beautiful goals and share your beautiful message.
At the Wellness Leadership Revolution we'll help you to find your A grade tribe, the audience you've been put on this planet to serve. We'll help you understand your target market and help you to create a message that speaks directly to them so they feel instantly inspired to work with you. We'll help you to find your magic and create commercially clever products and services that create more financial freedom.
We'll help you to find your place in the one of the fastest growing industries on the planet, the $3.8 trillion dollar wellness industry. So that you can make the biggest difference possible, help as many people as you can and have the time and location freedom to work from anywhere on the planet. We'll help you do this by being more authentic, vulnerable and the real you.
Join us in Melbourne, Perth and Toronto soon;
CLICK HERE to find out more and join us
We want you to live into your full potential. The world needs you now more than ever. We want you to share your gifts, be known and make the biggest difference possible. We want you to be well known for your expertise, your knowledge and your wisdom. We want the world to move toward holistic living principles and mutual respect. And YOU are an integral part of this mission.
It's time!
CLICK HERE to find out more and join us
Come along and at the end of the two day live event you will feel inspired, empowered and clear about the steps you need to take to turn your dreams and desires into reality. We look forward to seeing you there.
CLICK HERE to find out more and join us
Regards
Marcus and Andy
P.S: Don't forget when you book your ticket you get one for your friend for FREE;
P.P.S: You will also get some great content you can start implementing today…
CLICK here to register 
Comments
comments